At work with you
There is no way to remove all the risks associated with construction. But at Builders Mutual, we are giving it our best effort. We work with you to reduce risks, prevent fines, and help your job go as smoothly as possible through safety education, risk management consulting, and complete insurance coverage.
Each and every day, we show up on the job-site, and beyond, so contractors can stand strong. Our drive to help our customers succeed is rooted in our purpose.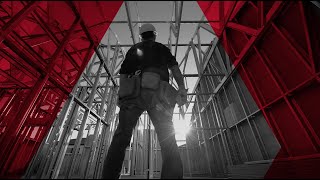 Our purpose
To protect and advance the unique needs of the contractor community.
Our history
Swipe or use the arrows to explore our company timeline.
1984
The North Carolina Home Builders Self Insurers Fund grows out of the North Carolina Home Builders Association (NCHBA) to provide affordable workers' compensation coverage to its members.
1985
In its first year, the fund collects premiums totaling $845,000
1994
In its 10th year, the Fund and the NCHBA, alongside 30 other trade associations and employer groups, lead the way to bring meaningful and fundamental reform to the NC workers' compensation system.
1995
The Fund membership reaches 8,000 members, and eligible members receive a policyholder dividend distribution totaling $3 million.
1996
In an effort to increase customer service levels, the Fund begins internal administration of underwriting and other policy services.
1997
Builders Mutual Insurance Company is incorporated and assumes all Fund business. All North Carolina policyholders must maintain NCHBA membership for coverage eligibility.
Receive A.M. Best rating of A- (Excellent).
1998
Builders Mutual becomes the largest writer of workers' compensation with a 7.8% market share and over $52M in premium.
1999
Buildersmutual.com is launched
Builders Mutual begins offering comprehensive commercial coverage in addition to Workers' Compensation.
2000
A.M. Best rating is upgraded to A (Excellent).
2001
Builders Mutual expands footprint to include SC, TN, and VA.
2003
Builders Online Business is introduced to give agents online access to quote and service policies
Builders University is chartered and becomes the only institution of its kind in the industry, providing training and certification to policyholders, agents, and employees.
2005
Builders Mutual's focus on "Service Outside the Box" pushes premium over $155M.
2008
Builders Mutual establishes the Builders First Center, bringing together the Raleigh-Wake HBA, the NCHBA, and Builders Mutual in one building.
Builders Mutual creates the Trade Contractor program to diversify and broaden our offerings.
2009
Celebrate 25 years of safety and stability.
Builders Mutual expands footprint to include GA, MD, MS, and DC.
2010
Builders Mutual partners with the NAHB to present the inaugural SAFE Awards during the International Building Show.
Builders Mutual grows to $105M in premium and more than 13,000 policyholders.
2011
Appetite is expanded to include light commercial contractors.
Builders Mutual partners with Safety Products Inc. to provide policyholders discounted safety equipment.
2012
Customer Contact Center is launched as a single point of contact for all agent and policyholder inquires.
Builders Mutual becomes a Premier Partnership of the HBA of SC.
2013
Builders Mutual footprint expands to include FL.
2014
Builders Mutual celebrates 30th anniversary with more than 700 agencies, over 19,000 policyholders, and more than $230M in premium.
Builders Online Business is introduced for policyholders to make payments, report claims, and view policies.
Builders Mutual becomes a Premier Partner with the HBA in Virginia.
Builders Mutual initially funds the Job-Site Safety Institute (JSI), a nonprofit dedicated to improving safety and protecting lives through residential and commercial job-site safety research.
2015
Builders Mutual launches WorkSafe to train the influx of new workers on the basics of safety before they step on the job-site.
Builders Mutual establishes internal claims department
Brand refresh with a new visual identity and voice is complete.
2016
Builders Mutual provides coverage for more than 21,000 policyholders through a network of more than 4,000 sales agents.
Builders Mutual supports the annual OSHA's Stand Down initiative with job-site training focusing on fall protection.
2017
Builders Mutual becomes the NAHB's official Safety Sponsor.
2018
Builders Mutual grows to $341 million in premium, more than 23,500 policyholders and 350 employees.
2019
Builders Mutual sponsors the inaugural IBS Jobsite Safety Zone to spotlight the latest workplace safety solutions.
Builders Mutual launches Put Your Guard Up, a safety movement to protect workers from injuries resulting from improper use or lack of guardrails.
A partnership built on purpose

In the early 1980s, builders in North Carolina had difficulty accessing affordable Workers' Compensation insurance. For this reason, the North Carolina Home Builders Association (NCHBA) established a self-insured fund for its members. When it was created, HBA membership was a key requirement for all policyholders. Nearly 15 years later, the fund evolved into an independent mutual insurance company, and Builders Mutual was born.
Over the years, we have expanded into additional states and established partnerships with various industry associations. However, we never lose sight of our roots. Builders Mutual remains exclusively dedicated to the construction industry, and we understand the value of an HBA membership. Through the years Builders Mutual has been actively involved with the HBA — from participating in legislative initiatives in our nation's Capital, to grassroots community outreach. We were founded by members, and we're here to insure eligible members.
Premier partnerships
Builders Mutual maintains Premier Partnerships with the HBA of FL, HBA of SC, HBA of TN and the HBA of Virginia. In these relationships, Builders Mutual assists in sponsoring and promoting the great work of the associations for the construction industry.
Our leadership
Rick Judson, Chairman
Evergreen Group, LLC
Charlotte, NC
David Stormont, Vice Chairman
Storm Coast Homes, LLC
Kitty Hawk, NC
Erik A. Anderson, Secretary
Anderson-Moore Builders
Winston Salem, NC
Andy Betts
Business Consultant
Raleigh, NC
Mike Carpenter
General Counsel, North Carolina Home Builders Association
Raleigh, NC
Michael S. Enscore
The Veritas Group, Inc
Kernersville, NC
Gary Embler
Niblock Development Corp.
Concord, NC
Willard "Buddy" Hughes
Insulated Concrete, Inc.
Lexington, NC
Mark Martin
Sandmark Custom Homes, Inc.
Kitty Hawk, NC
Brian Pace
Pace Development Group
Charlotte, NC
Randy Screen
Business Consultant
Raleigh, NC
Interested in becoming a member of the Builders Mutual Board of Directors?
Let us know
.
Michael Gerber, CBIA
President/Chief Executive Officer
Ross Fowler, CPCU, CBIA
Vice President/Underwriting
Brad Moock, CPCU, CLU, CBIA
Vice President/Business Development
Ken Bunn, AIC, PMP
Vice President of Claims
Keith Goad, MBA, CVA
Chief Financial Officer
Michele Hemric, SPHR, PCC, CBIA
Assistant Vice President/Human Resources and Organizational Effectiveness
Sherman McCoy
Assistant Vice President/Business Operations
Jesus Unzueta
Assistant Vice President/IT
Jodi Vedelli, CBIA
Assistant Vice President/Strategy
Chris Wetzel, FCAS, MAAA
Assistant Vice President/Actuarial Services
Melissa Williard, CIC, CBIA
Assistant Vice President/Underwriting
Susan Lenhart
Assistant Secretary
Jeff Beatty
Director of Underwriting
Lindsay Beavers
Director of Marketing
Dan Carroll
Director of Large Market Accounts & Products
Lori Caldwell, AIC, CRIS, CBIA
Director of Claims Operations & Commercial Claims
Jeff Flood
Director of Project Services
Joe Frazier
Director of IT Business Solutions
Tina Hill, CBIA
Director of Claims, WC
Jeff Lenhart, CPCU, SCLA, CLMP, AIC
Director of Claims, Litigation
Daniel Marek
Director of Analytics
Rob Matuga
Director of Industry Affairs
Melissa Piercy, AIC, CPCU, CBIA
Director of Learning & Development
Lonnie D. Platt, ARM, AIS, CBIA
Director of Risk Management
Todd Quilici
Director of IT Infrastructure
Alice Rockwell, APA, CRIS
Director of Premium Audit
Lauren VanLandingham
Director of Sales
Stephen Vore, CPA, CTP
Director of Treasury Services
Financial Stability
We remain committed to maintaining a solid financial base. For a complete summary of Builders Mutual's financial history, review our most recent annual report, Workers' Compensation safety dividend, and financial ratings from AM Best.